About Eternal Connection
The Eternal Connection is a radio broadcast ministry of St. Mark Lutheran Church in Omaha, NE. The broadcast is hosted by Pastor Eric Jay and Chip Thompson.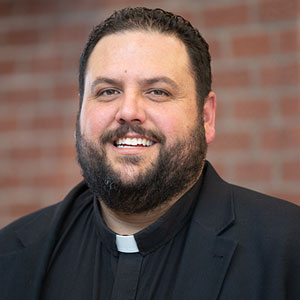 Pastor Eric L. Jay
Senior Pastor
Send Pastor Jay an email
Pastor Jay accepted his call to St Mark in August of 2017 to serve as Associate Pastor, and In 2018, St. Mark called him to serve as Sole/Senior Pastor.
A Southern California native, Pastor Jay graduated with a Master's in Theology and Culture as a student of St Louis Seminary via the Cross Cultural Ministry Pastoral Certification Program (CMC) located at Concordia University in Irvine, California. The CMC focuses uniquely upon equipping students and future pastors to infiltrate strategic urban settings as church planters. As such, Pastor Jay spent the the last 2 years of his seminary training and the first 3 years of ministry as pastor of The Gathering; a church plant of which Pastor Jay was founder. Simultaneously, Pastor Jay served briefly as the Interim Pastor at St. Luke's Lutheran Church in Westminster, California. In 2012 he accepted the call to serve as sole pastor of St John's Lutheran Church in El Segundo, Ca, and served there for 5 years before coming to St. Mark.
After accepting the call to St Mark's in August 2017, Pastor Jay preceded his wife Sarah and daughter Elizabeth who later joined him here in Omaha. Much of Pastor and Sarah's time outside of church is spent enjoying time as a family with their daughter "Bizzy" Lizzy and son Jesse (J.J.). Having met at and graduated from the Hall-Musco Conservatory of Music (Chapman University in Orange, Ca) with degrees in Music Performance, both Pastor and Sarah also love performing and teaching music.
. . . . . . . . . . . . . . . .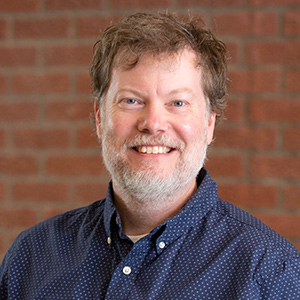 Chip Thompson
Director of Creative Communications
Send Chip an email
I graduated from Kearney State College with a Bachelor's Degree in Business Administration with an emphasis in Marketing. I served in various positions in marketing and design until 14 years ago when I started my own firm, Chip Thompson Design. I continue providing design and marketing services for clients across the US including website design/development, corporate identity design and advertising layout/design/strategy. My wife, Kelly, handles the day to day accounting and administrative tasks. Two years ago, I started Thompson Social Video with my son, Tanner, providing professional video services to the Omaha market. We've had the pleasure of serving some great local and national companies (both for profit and non-profit) including the Durham Museum, Fontenelle Forest, Stephen Center, Angels Among Us, Ronald McDonald House Charities, Alzheimer's Association, Lauritzen Gardens, Army Corps of Engineers and Nebraska Cancer Specialists.
In my spare time, I like to build unusual movie props and interactive displays in my shop under a dba "Box Rebellion". Among the "cooler" things I've built are a 15 foot tall AT-AT Walker from Star Wars (I'm kind of a big fan) and a 9 foot long Lite Brite for a local children's non-profit. I also recently wrote and illustrated my first kid's book "Wordspace" (Book number two will be finished soon).
Putting the talent God gave me to use for the church is a long-time dream. I am excited about what God has in store for the future here at St. Mark, where Kelly and I have been members for just over 2 years! One of my favorite verses, written in St. Paul's first letter to the Corinthians, sums up the way I try to live life (only imperfectly and only with and through God's help): "For I decided to know nothing among you except Jesus Christ and him crucified." Connecting People to Jesus is our tagline, and it is the desire of my heart. God be praised!