About Eternal Connection
The Eternal Connection is a radio broadcast ministry of St. Mark Lutheran Church in Omaha, NE. The broadcast is hosted by Pastor Eric Jay, Chip Thompson and Jason Eisenman.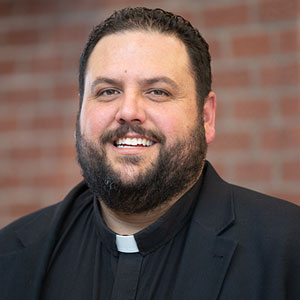 Pastor Eric L. Jay
Senior Pastor
Send Pastor Jay an email
Pastor Jay serves as St. Mark's Senior Pastor.
A Southern California native, Pastor Jay graduated with a Master's in Theology and Culture as a student of St Louis Seminary via the Cross Cultural Ministry Pastoral Certification Program (CMC) located at Concordia University in Irvine, California. The CMC focuses uniquely upon equipping pastors to infiltrate strategic urban settings as church planters. Pastor Jay spent the the last 2 years of his seminary training and the first 3 years of ministry as pastor of The Gathering; a church plant of which Pastor Jay was founder. Simultaneously, Pastor Jay served briefly as the Interim Pastor at St. Luke's Lutheran Church in Westminster, California. In 2012 he accepted the call to serve as sole pastor of St John's Lutheran Church in El Segundo, Ca, and served there for 5 years before accepting the call to St. Mark in August 2017.
Pastor Jay and his wife Sarah met at and graduated from the Hall-Musco Conservatory of Music (Chapman University in Orange, Ca) with degrees in Music Performance. God has blessed them with three children, their daughter Elizabeth and sons Jesse and Hezekiah.
. . . . . . . . . . . . . . . .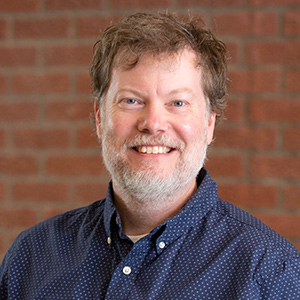 Chip Thompson
I graduated from Kearney State College with a Bachelor's Degree in Business Administration with an emphasis in Marketing. I served in various positions in marketing and design until 16 years ago when I started my own firm, Chip Thompson Design. I continue providing design and marketing services for clients across the US including website design/development, corporate identity design and advertising layout/design/strategy. My wife, Kelly, handles the day to day accounting and administrative tasks. A few years ago, I started Thompson Video with my son, Tanner, providing professional video services to the Omaha market. We've had the pleasure of serving some great local and national companies (both for profit and non-profit) including the Durham Museum, Fontenelle Forest, Stephen Center, Angels Among Us, Ronald McDonald House Charities, Alzheimer's Association, Lauritzen Gardens, Army Corps of Engineers and Nebraska Cancer Specialists.
In my spare time, I like to build unusual movie props and interactive displays in my shop under the moniker "Box Rebellion". Among the "cooler" things I've built are a 15 foot tall AT-AT Walker from Star Wars (I'm kind of a big fan) and a 9 foot long Lite Brite for a local children's non-profit. Recently, I began working on a stop motion animation film, when I'm not working on a Star Wars costume in my shop.
One of my favorite verses, written in St. Paul's first letter to the Corinthians, sums up the way I try to live life (only imperfectly and only with and through God's help): "For I decided to know nothing among you except Jesus Christ and him crucified." Connecting People to Jesus is our church tagline, and it is the desire of my heart. God be praised!
. . . . . . . . . . . . . . . .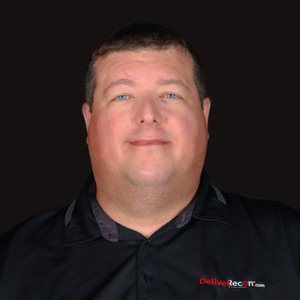 Jason Eisenman
Jason Eisenman currently serves as Director of Human Resources for Liquid Trucking Companies, a 150+ driver bulk liquid carrier fleet base in Plattsmouth, Nebraska. Jason has worked in the trucking and logistics industry since 1997 when he started his career as a regional truck driver for five years. Since then, he has served in various roles, including Assistant Routing Manager, Small Fleet Management and 3PL Logistics, Terminal Manager, where he directed vehicle logistics and automobile delivery/distribution for Chrysler to its Midwest dealership locations.
In his current position, Jason's daily duties include oversight of Safety, Payroll, Benefits, Fuel Programs, Technology, Marketing, and Human Resources. He describes his role as being "highly resourceful in supporting the company's operations staff and drivers.
In 2015, Jason, and the owners of Liquid Trucking, founded a technology company focused on improving the transportation industry's safety and efficiency while improving truck drivers' daily lives. The product, DeliveRecon is available to all trucking firms looking to fulfill the same mission and vision.
Jason has been married for 14 years, has three kids; he enjoys spending his free time at the lake. He is also an avid racquetball player.
Download the St. Mark App (you can listen to Eternal Connection on the app).